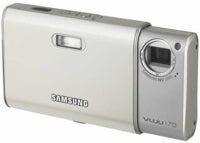 Most of us have cameraphones, but how many of us can say that we have phonecameras ? Samsung's new VLUU i70 (translation from Korean) doesn't just boast a 7 megapixel resolution, it totally rocks the 3G HSDPA connectivity. That's right: it's a camera that has higher speed cell wireless than, say, the iPhone . Crazy? Little bit.
What can you do with that fancy acronym? HSDPA is pretty high speed, and the VLUU i70 integrates a modem, so you'll be able to upload pictures directly from your camera to the web. The possibilities are so varied: there's blackmail. And, er, blackmail. Think about it: it's the natural progression. First you had to take your film to be developed, then you had to connect your digital camera to the computer, now you can go straight from phone to Interweb.
Besides the super funky wireless features, the camera also features the ability to shoot at an insanely high 1600 ISO speed, making the flash unnecessary in many low-light situations. There's a 3x optical zoom, and the ability to receive text messages—wait, wha? Yeah, that's just what I need.
[via New Launches ]