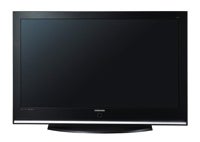 I've yet to make the HD jump. The center of my home "theater" is a 27″ Sony Trinitron that I inherited from my parents (which would make me exempt from the MPAA's home theater registration fee ). It's a pretty nice screen for its age (close to ten years) and it came at a hard to beat price (free). But seeing as all three of my closest friends from college own 50″ plasma screens, I'm feeling a bit left out in the cold. To be fair, I'm not entirely certain my tiny fake wood media center from Target can support one of these huge screens anyway.
Even though there's no pricing announced yet, somehow I doubt I'll be able to afford either model of Samsung's 50″ Plasma with built-in Multi Media Center. Besides the shiny panels with upped contrast ratios, the units feature internal hard drives for storing recorded video. Very snazzy. I'm prepared to drool all over this sucker at CES, which will no doubt get me kicked off the premises. I do it for you , readers. For you.
Note: When you purchase something after clicking links in our articles, we may earn a small commission. Read our affiliate link policy for more details.