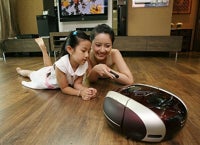 Watch out, Roomba. There's a couple of new kids on the robotic vacuuming block. Meet VC-RS60 and VC-RS60H (I call them Victor and Victoria), from electronics giant Samsung. These guys mean business: they zoom around at 1.3 ft/sec and can run for about an hour on a charge, at which point they'll return to their charging stations like Cylon Raiders to a Base Star. Even better, you can remotely activate them by using your phone, instructing them to sweep up the place just in case you're going to have unexpected guests. Or, as a makeshift home security device for tripping up burglars. The VC-RS60 and VC-RS60H will go for around $936 and $1,042 respectively (cute family not included), but right now they're not destined for the US.
I have to ask: is it too much to hope for a Sharks vs. Jets face-off between these vacs and singing Roombas ?
[via Engadget ]
Note: When you purchase something after clicking links in our articles, we may earn a small commission. Read our affiliate link policy for more details.