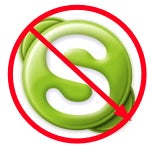 Skype may be the greatest thing since someone toasted slices of bread, but not everybody's quite so bully on it. Take, for example, the fine administration of San Jose State University. They're a little concern that Skype could be eating up their bandwidth, so they're banning it and other "grid-computing-like" applications. Neither are they first to do so: they're following in the footsteps University of California Santa Barbara and California State University Dominguez Hills.
In day-to-day usage, Skype isn't much of a bandwidth hog; the real trouble comes when your computer makes itself available as a "supernode," allowing Skype to route other calls over your connection. This can place a huge demand on your network connection, increasing by in some cases up to a gigabyte a month. Supernode mode can be disabled, but Skype doesn't provide a method for doing it via the program itself.
The ban does not affect dorms and residences, and reps from Skype parent eBay are en route to discuss with the university ways to handle the problem without banning the program entirely.