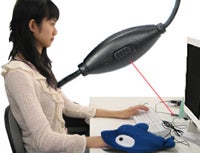 Just yesterday we were talking about heated USB slippers, and today, USB-gadget maker extraordinaire Thanko has brought us a USB-powered heated mousepad . As if that wasn't enough, it's shaped like a dolphin. A rather hungry dolphin, apparently, as you'll have to stick your fist down its gullet for some hot mousing action. Yes, the dolphin is kind of disturbingly cute, though that doesn't make me any less uncomfortable about the prospect of having my mouse hand devoured .
I suppose my hands do get cold when I'm using the computer in the winter, but for Pete's sake: that's what pockets are for. Or gloves. Or gloves in pockets. Besides, all these USB-powered heating devices are sure to do unpleasant things to my electric bill. At least it's Mac compatible. That's something, I guess.
[via Shiny Shiny ]
Note: When you purchase something after clicking links in our articles, we may earn a small commission. Read our affiliate link policy for more details.