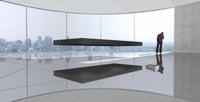 When I moved out of my old apartment, I had no place to store my bed, so my roommate sold it for me. Now that I find myself moving into a new apartment, I'll once again be undertaking a bed search. Since I'm living at the top of a couple of narrow stairwells, maneuvering your average full size boxspring up them might be a little on the challenging side, so I'm looking into alternatives.
And if I had a $1.5 million, I might consider this floating magnet bed. It's suspended only by magnetic forces and a few small tethers. Perhaps it solves the problem of bedsprings poking one in the ribs while trying to sleep. Also, I wonder if you released the tethers, could you ride it around like a hovercraft? Because that would be awesome .
The fellow who built this, Dutch architect Janjaap Ruijssenaars has also made a model that's 1/5th the size for only $146,000, but is probably only suitable for small children. Or pets. Or jumping up and down on.
[via Engadget ]