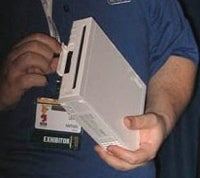 Perhaps that should read " Secret of the Wii, revealed" since I've really only got one secret. There was some question as to what a particular "mystery flap" on the front of Nintendo's forthcoming console was actually for , but Nintendo President—and international charmer—Reggie Fils-Aime has demonstrated that it's nothing more than a slot for SD flash memory cards, which will be used to store data.
However, in Nintendo's continuing policy of replacing every revealed secret with a new secret, Fils-Aime was heard to add of the SD format: "It will be one of the memory mediums, and it's the only one that we've announced." You're such a tease , Reggie. No wonder they put you in charge.
[via Joystiq ]
Note: When you purchase something after clicking links in our articles, we may earn a small commission. Read our affiliate link policy for more details.