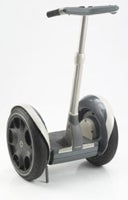 Segway, the preferred method of transportations for dot-com billionaires and, um, Steve Wozniak, may not as stable as they thought. The company announced today it would be recalling 23,000 units from PT i167, i170, i180, p133, XT, GT, i2, and e167 models. Phew. That's a lot of models.
Why the big recall? Well, as it turns out, the Segway may suddenly apply reverse torque to the wheels. Um, yeah. That would be kind of a problem. I've ridden a Segway exactly once (I didn't fall off like some people ) and while I wouldn't call it a harrowing experience, I could see how suddenly switching into reverse might cause a mild case of, um, death . Or, at the very least, personal injury.
On the upside, Segway owners are for the first time enjoying being called daredevils and thrill-seekers.
[via Slashdot ]