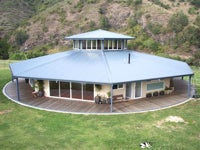 This is a solution to a problem that I don't ever see myself encountering, unless blogging goes totally Hollywood (just as long as I don't become its Tom Cruise). Let's say you've got a gorgeous house situated on a picturesque hill outside of Sydney, Australia, which beautiful views in every direction. How do you ensure you get the most of your environment?
If you're Luke Everingham, you set up your house on a giant rotating motor. That's right, turning your house into an enormous Lazy Susan is the next big thing in home design. It's taken six years and thousands of hours of research for the house to reach completion—one hopes that none of the inhabitants suffer severe motion sickness. The maximum speed for the rotation may seem fairly slow at one revolution per half hour, but how fast does your house revolve, hm?
The house also has some programmable features; for instance, you can program it so any room follows the path of the sun, providing a constant amount of daylight. The revolving feature is also environmentally friendly; the motor itself is "not much bigger than a washing machine motor" and rotating allows the house to optimize natural heating and light, saving on electricity.
[via gizmag ]