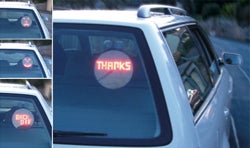 Driving in Boston can be a frustrating experience at times, to say the least. I once saw a guy pull up next to a Jeep, politely motion him to roll his window down, and then give him a shouting earful for cutting him off last block.
Ah, home .
That's why I've been looking for one of these for years . You see, sometimes I wonder if the other drivers realize how inconsiderate they're being—I'd love to tell them, but the number of gestures you can make with a free hand is pretty limiting, and lip-reading can be tough at 40 miles per hour. So I'd love to run a little Pavlovian experiment with the Driv-e-mocion, as it's called: let's see if people are more polite when I flash them a frowny face.
It's either this or getting myself one of those scrolling LED signs. Granted, the Driv-e-mocion only costs around $20, and then I don't have to waste my time trying to type out lengthy messages to people while I'm driving. Safety first, you know.
[via SCI FI Tech ]