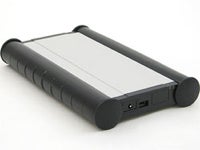 How about a little one-on-one hard drive basketball? Playing's easy, just grab your laptop's hard drive (any capacity will do), and dribble it up and—broke it, did you? I guess I forgot step one: encase your drive in this shockproof case, which can withstand drops of almost four feet. Perfect for hard drive basketball.
The Evergreen-made case is plastic, and the interior is lined with foam to absorb the shock of your slam dunk. It also seems to provide a power port for external power, and some sort of connection (USB? FireWire? SATA?) for data.
Oh, and hard drive basketball isn't real. I just made it up. Sorry, dude.
[via Gizmodo ]