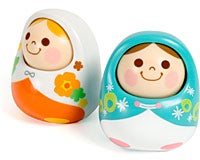 Decision-making is a tough process, it's true. I have at least one friend who can become quite nearly paralyzed over a choice of shirts. I honestly don't know what he did before he could instant message me and ask my opinion—nor do I want to know what he does when I'm unreachable. As the holiday season is upon us, perhaps I should get him an Unazukin.
What is an Unazukin? I'm glad you asked. They're little dolls which sit on your desk and help you make the important decisions that come up in daily life: "should I have another cookie?" or "is rampaging through the streets dressed only in my underwear really a good idea?" Unazukins respond with one nod for a "yes" and a head shake for "no." To make your decisions even easier they also have emphatic double nods and double shakes (read: "hell yeah!" and "no way!"). They are, apparently, all the rage in Japan. Which should be good enough for you.
And at $8.95 for one, they're a steal. They require two small batteries to power their mysterious workings , but fortunately those are included in the package. And if you doubt their decision-making prowess, well, you're better off asking something that at least looks human, instead of an oversized billiards ball.
[via Popgadget ]