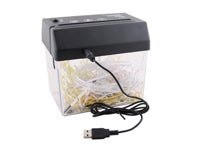 My mom loves her shredder. She'll sit around, blithely shredding documents day and night—pretty much anything that comes to hand: credit card applications, old bank statements, money, cheese. Anything . Occasionally I need to shred something, so I usually amass a pile of documents, then bring them to my parents' house to turn them into confetti.
But USB Geek is selling a paper shredder that can either be powered by 4AA batteries, or—and this is the kicker—USB. Fantastic! Especially for shredding on-the-go. Though I'm not sure how thrilled the library's going to be when I start shredding things in the stacks.
At 16 x 12 x 14cm with a 1.6L capacity, and a 2 sheet at a time throughput, this would be about perfect for my needs. And it's just $32 if you pre-order now for release in mid-July.
[via Engadget ]