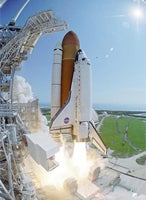 This weekend, NASA chief Mike Griffith and top officials from the space agency announced that the space shuttle Discovery would indeed liftoff for a mission to the International Space Station on July 1st. This marks only the second shuttle flight since the destruction of Columbia in February of 2003 (Discovery also flew to the ISS last July).
There were some concerns that the shuttle should not fly until there had been a redesign of its ice-frost ramps, the wedges that hold in place the pressurization lines on the external fuel tank. These are distinct from the foam that separated from the fuel tank and caused the damage that ended up resulting in the Columbia tragedy. But the agency says new procedures are in place that would let the shuttle crew make repairs if necessary, or allow them to stay at the ISS until a rescue mission could be dispatched.
During the meetings about the launch, officials from NASA's Office of Safety and Mission Assurance and the Office of the Chief Engineer expressed concerns about the ice-frost ramps, but they did not object to the launch. The shuttle fleet is expected to be phased out by 2010, by which time it should be replaced by a set of new vehicles, currently under development under the name of Project Constellation.