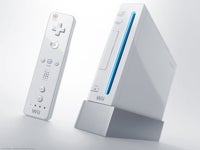 A little more Wii news for those of you who harbor the love for Nintendo's new console deep inside your heart. We announced the price and release date the other day, but there were a few tidbits in Nintendo's press conference that we didn't share with you, so never let it be said that we never told you nothing.
Like the PlayStation 2 and Xbox 360, the Wii was supposed to double as a movie player, allowing consumers to play traditional Hollywood DVDs on it. It appears, however, that this functionality has been removed from the final shipping version. You'll have to scrape up the requisite $30 to buy a stand-alone model. I hear they're taking pocket lint nowadays too. Hell, here, you can have mine .
On the other hand, the Nintendo-prouced Wii games will not suffer from the strange affliction known as "region encoding." That seems to suggest that you'll be able to buy Nintendo games from Japan and play them on your Wii here in good ol' America. The same may or may not be true of third-party games.
Finally, unlike its competition from Sony and Microsoft, the Wii console will actually be profitable at launch. Both Sony and Microsoft sell their hardware at a loss—it costs them more to build it than the retail price. A good thing for them, too, as the PS3 console would be even more expensive .