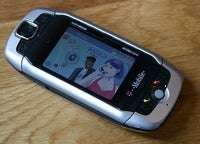 Even sidekicks have to grow up. Dick Grayson, the original Robin, went on to become Nightwing; Dr. Watson got married; and Bucky…well, who remembers that Captain America even had a sidekick?
Likewise, the T-Mobile Sidekick has had some growing to do. Having already received an upgrade in the form of the Sidekick 2, the time was ripe for a third incarnation to appear. The Tim Drake to the original Sidekick's Dick Grayson, if you will.
While keeping such standbys as email and IM support, the new version also features Bluetooth, an SD card slot, a music player, a 1.3 megapixel camera and a trackball. It's also a bit slimmer and sleeker than the Sidekick 2. Engadget Mobile has an embarrassment of riches screenshots of the newly revamped phone (oh yeah, it's a phone too). Their only real complaint is that the screen's resolution is an underwhelming 240×160. Shame on you, Sidekick—this is why you'll never make full-fledged hero!