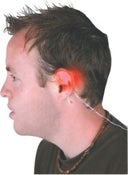 One of those rare devices that I don't need but everyone else does: personal turn signals. Have you ever been in a hurry, scooting your way down the sidewalk, when bam you get shot—er, blindsided by some fellow taking a sudden left zig when he should have zagged? It happens all the time in this crowded metropolis, let me assure you.
If only that person had been wearing his Indicatears, perhaps you could have saved the sprawl to the pavement, the awkward recriminations, dirty looks, etc. The signals clip over your ears, and connect to a little belt-clip box with a pair of buttons. Simply depress either button, and the corresponding light will illuminate, letting everybody clearly know your intentions at swerving. Best of all, they run less than $7 and come with batteries included. Nobody will ever unintentionally hit you again.
Intentionally is a different matter.
[via Shiny Shiny ]