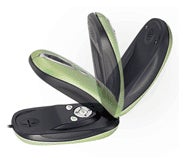 As I mentioned above, the theme for the rest of the day (read: this post) is convergence, whether you want it or not. We don't care how disparate multiple functions might be: nothing's going to stop these companies from cramming them into one device. In that spirit, I present to you Genius's Navigator 380. The name may be bland, but the product—a mouse combined with a VoIP handset—is anything but.
Crazy it might be, but they're not the first to tread these waters. The Navigator 380 boasts a 1200 dpi optical sensor, two buttons and a scroll wheel, but when that little light on top blinks, you just pick that sucker up and flip it open—and you've got yourself a VoIP-enabled flip phone at your disposal, complete with cell phone-like controls.
Not content to rest on their pointing device/phone laurels, Genius (who names their company "Genius," by the way? Aren't you just asking for it?) has also integrated software (Windows only, unfortunately) that will bring together all of your IM contacts from Skype, MSN, AIM, Yahoo!, GoogleTalk, and QQ (a service I'm not familiar with). Genius is based in Taiwan, but the Navigator 380 will be making its debut in India for around $40. We can only hope that it'll make its way to US shores soon—before I have to invest in a separate mouse and VoIP handset.
[via Engadget ]