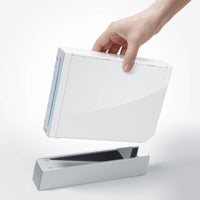 It's less than a month to Wii Day; we're pretty excited, as you can imagine. Until we hold that Wii controller and nunchuck attachment in our hand, well, we're just not going to feel complete . Nothing can dissuade us from our Wii-fanboying. Nothing.
Well, almost nothing. Blogger John Siracusa, perhaps best known for his commentary on the Mac platform, has taken a hard look at the Wii. Though a self-acknowledged "Nintendophile," John is finding himself apprehensive about the lack of next-generation technology in the Wii. Imploring the rest of the fan community to put aside the issue of the Wii's control scheme, he focuses instead on the hardware beneath the Wii's shiny white hood.
I need that next-gen "wow" factor. I don't think hardware power is the be-all, end-all, but I do think it's an essential enabler. I love what Nintendo does with its first-party titles. I want to see what those same developers can do with next-gen hardware. What would the next Zelda title be like if given three times the RAM and polygon budget supported by the Wii? What would Wave Race be like with seven cores to compute wave action?
You're totally harshing our mellow, John. We were content in the bliss of our ignorance. I mean, I know you say you're still going to buy a Wii, John, but, well, most of our blogger's salary is on the wrong side of the decimal point, if you know what I mean. We need to pick and choose carefully.
My friends and I were discussing the Wii the other night, and while one of my buddies has already put down his hard-earned cash on pre-order, the rest of us were a little more cautious, preferring to get our hands on it before spending our money. Still, that's more than any of us will say for the PlayStation 3.