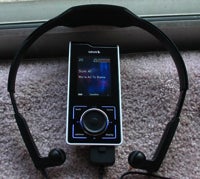 Are you a satellite radio freak? Satellite radio superfreak ? Gizmodo's Travis Hudson took Sirius's new portable player, the Stiletto ( previously discussed here ) for a trial run, and was less than excited with what he found.
The Stiletto is Sirius' answer to true, portable satellite radio. XM has had a similar device for the better part of this year, and I expected the extra time Sirius put into the Stiletto to pay off, but it didn't. There is some good, like the included extended battery and ability to save songs, but then again, there is a lot of bad.
Downsides for Travis include the bulky design, poor reception, the need for using the ugly included headphones, dearth of offerings when using Wi-Fi connectivity, and a high pricetag. Sounds like Sirius fanatics may have to wait for their dream portable player to come along.