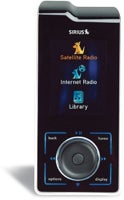 [Cathy Lu, Digital World, writes:]
Sirius's new portable player is now available for preorder on various Websites, including Crutchfield. The Stiletto is Sirius's first truly portable device that can receive satellite music on the go. XM's had that capability forever, so what really intrigues is the built-in WiFi, which allows you to stream music from Sirius's Website whenever you're in range of a router. And according to Wired News, that also means you'll likely be able to buy tunes from Yahoo Music whenever you hear a song you like. Other than integrated WiFi and antenna, the Stiletto includes 100 hours of MP3, WMA, or Sirius music storage, plus two batteries (one standard, one extended). The Stiletto costs $350 and will be shipping at the end of September or early October. But you can preorder it now, so if you want to stay cutting edge, hop to it.
[Via Digital World ]
Dan's Thoughts: I love the idea of satellite radio, especially for long car trips when you have to flip back and forth between multiple radio stations because of signal loss. Don't know if I need to carry it around with me, but hey, it looks pretty slick.