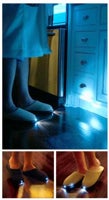 It's midnight, and you're feeling a bit nippish . Of course, heading downstairs might involve accidentally waking certain parties. You need to be quiet, but you also need to see where you're going without having to turn on every light in the house.
The solution? Slippers with flashlights on them. These comfy slippers feature LED lights in the toes that are activated by a combination of light sensors and weight sensors. That way, the lights will only come on in the dark when you're wearing them. They should illuminate an area of 20 to 25 feet in front of you, and they include a timer that will give you a few moments to find your way back into the comfy confines of your bed before shutting off. They come in men's and women's sizes, but only in black, with no "fluffy bunny" option yet available.
Powered by replaceable lithium batteries, they run for $69.
[via Gizmodo ]