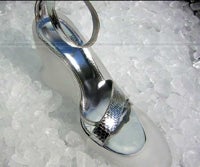 Shoe shopping seems to be one of those things that sets the genders apart. Most men of my acquaintance—myself included—have a handy built-in indicator that tells them when they need new shoes: namely, holes start appearing in your old shoes. Whereas most women I know treat shopping for shoes like a recreation activity, as if it were bowling or something.
But finally, I've found a pair of shoes I feel comfortable suggesting to any woman, because they have that essential feature that all good footwear really should have: a stun gun.
That's right, break the tip of the shoe and you can deliver 100,000 volts to any would-be Prince Charming . Unfortunately, you only get one shot as the stun gun is designed for a one-time emergency usage. Cool though they may be, one of my female friends seems pretty happy with her preferred footwear: steel-toed boots.
Granted, they don't have the fashion-conscious features of this shoe, with its, um, shininess . On the men's side, I'm still holding out for sneakers with retractable blades .
[via Gizmodo ]