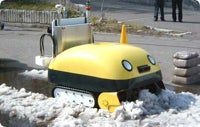 From what I'm hearing, my relatives in upstate New York have been getting some actual snow, as opposed to the Metro Boston area, which has been surprisingly free of the white stuff this winter. More's the pity: since I'm responsible for shoveling my own driveway/sidewalk, I could have totally bought myself one of these snow-shoveling robots from Japan.
This lovable yellow monster goes by the name Yuki-taro, and he devours snow with a single-minded passion. He relies on GPS and a pair of video camera "eyes" to seek out snow and shovel it into his gaping maw. Once firmly seated in his innards, the snow is compacted into hard cubes that are then, erm, expelled from the rear of the robot (perfect for igloo building!).
While Yuki-taro is not yet for sale on the general market, the developers hope he'll be available within five years for a little over $8,000. Which means by the time I'm old enough to have children, they won't have to go out and shovel. Lame .
[via Uber-Review ]