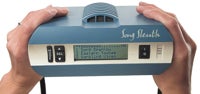 All right, I'll be honest with you: I was totally prepared to poke fun (gently! always gently!) at The Song Sleuth, an electrical device that helps you identify bird species by analyzing their bird song, but then I discovered two things: 1) it's actually pretty neat technology, when you think about it and 2) the birdcalls are from the Cornell University Ornithology Lab's "world-renowned" Macaulay Library. And not only is Cornell my alma mater, but the Macaulay Library is named in honor of my friend's parents. I kid you not. So, er, that kind of took the wind out of my sails.
Instead, let me regale you with the details of The Song Sleuth. Using a directional microphone and signal processing, the device compares the detected song to an internal library of sound clips, and then displays to you a list of species on an LCD display, in order of likeliness. There are 160,000 birdsongs in the library (covering 67% of the world's birds) and you can download modules to load into The Song Sleuth that cover particular regions of the US, so you're unlikely to run into something in your backyard that it can't recognize.
The Song Sleuth runs on batteries and connects to your computer via a serial port. It runs for $299, but I have to break to you the disappointing the news that the current run is sold out. However, a second generation product is due to bow next fall (one hopes they've miniaturized it a bit), so start saving those pennies now.
[via Gearlog ]