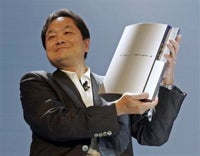 As if the pricing of the PS3 wasn't bad enough for them, it appears that Sony is prepared to make yet another PR blunder. The company has reputedly told game stores in the UK that consumers will not be able to resell their PS3 games, and game stores will not have pre-owned sections for PS3 games.
This seems like a blatant money-grubbing move on Sony's part, and one which I don't think they've realized the full import of. Yes, pre-owned games cut into Sony's (and game developer's) profits, but not every pre-owned copy is a lost sale; I know plenty of people who would not have bought a game new, but decided to pick it up used, and I know plenty of people who would not have bought a game if they didn't think they could resell it when they were done.
This strategy is ridiculous enough that I'm willing to be it will be retracted or "clarified" well before PS3 launch (probably within the next week if gamers' outrage is anything like I suspect it will be).
[via Sci Fi Tech ]
Update: That didn't take long. The Guardian is quoting a PR manager for Sony in the UK who has denied this outright: "I would like to clarify that this is false speculation and that PlayStation 3 software will not be copy protected to a single machine but will be playable on any PlayStation 3 console."
Note: When you purchase something after clicking links in our articles, we may earn a small commission. Read our affiliate link policy for more details.