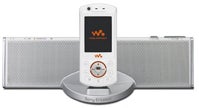 Another day, another "iPod killer" story, except this one's a bit different. On the back of strong financial results earlier this week, a reinvigorated Sony reckons it's ready to take on the Great White Player and win.
We may have heard such claims before from lesser firms, but when a company with resources like Sony has makes such a bold challenge to Apple's dominance, you just know it's getting serious.
— Sony is preparing to take another swing at Apple's iPod digital music player, a top Sony executive said Friday.
The company is developing a new music player that will go on sale in the U.S. and other markets over the next year, alongside a companion download service and software, said Takao Yuhara, senior vice president of Sony, at a briefing with reporters in Tokyo.
The player will be "typically Sony," he said, drawing on the company's strength in areas like design and long battery life.
Apple has a commanding lead in the music player market and is particularly strong in the U.S., where it's estimated to command more than 80 percent market share. Sony has tried to unseat Apple in that market before with little success, and its recently launched A-series Walkman digital music players are on sale only in Japan and Europe.
The new player will be launched within the current fiscal year, which ends in March 2007, Yuhara said. He wouldn't be more specific, but acknowledged that the holiday sales period between the U.S. Thanksgiving and Christmas holidays is an important time for consumer electronics products.
Sony sold 4.5 million digital music players in the year to March, and expects this to rise to 5.5 million in the current year, the company said Thursday when it announced its financial results. In contrast, Apple shipped 8.5 million iPods in the first three months of this year alone.
Sales of all audio products at Sony fell 6.2 percent in the last year, to ¥536.5 billion. Operating profit at the division was ¥2.7 billion, against a loss of ¥2.4 billion the year earlier.
[via Digital World Tokyo ]