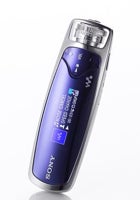 Sony's just going to keep making MP3 players until someone buys one, huh? This morning we've got yet another bunch of music devices dropped by the electronics giant, each one guaranteed to dilute the worth of the once-formidable "Walkman" brand. This time around, Sony's touting noise cancellation as the feature du jour . The 700-series models have been announced for Japan and Europe at the end of October, early November, but there's no word of a US street date or price.
The players will come in 1GB, 2GB and 4GB models (what, no 8GB?) and feature colors like blue, gold, silver, pink, and brown (watch out, Zune!). An FM tuner is standard The players also feature a tiny display so you can strain your eyesight while trying to figure out exactly what you're listening to. We kid! We kid because we love!
Of course, the 4GB model is pre-ordering in the UK for £189 (by comparison, the 4GB iPod nano goes for £129, with the 30GB iPod going for £189). The models claim 50 hours of battery life with a quick 3 minute charge providing enough for 3 hours of play and, of course, the built-in noise cancellation. Any takers?