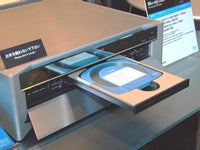 You want creepy? Here at Gadgetbox, we can do creepy . In the all-out Format War for the next-generation optical format, there have been many casualties. But as is the tragedy of war, many of them have been innocent bystanders. We call them "the consumers."
BusinessWeek has an excellent article detailing many of the content restrictions in place in both Blu-Ray and HD-DVD. Sony in particular is enforcing draconian means of ensuring that content remains secure:
But there's an ominous feature buried in this so-called protection mechanism: If a particular brand of player is cryptographically "compromised," the studio can remotely disable all of the affected players. In other words, if some hacker halfway across the globe cracks Sony's software, Sony can shut down my DVD player across the Net.
Ridiculous. I remember the amount of trouble I had to go through in college just to copy some DVDs to my computer in order to put together a video parody for one of my clubs. This wasn't something we were going to
sell
, or even distribute, and yet we had to find a hacked DVD player that didn't respect CopyGuard or MacroVision.
What's at stake here is nothing less than our rights as consumers—yes, we have rights as consumers, and don't let any company or government tell you that we don't.