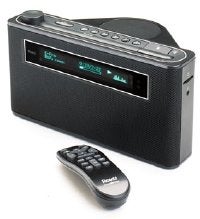 Dan Frakes has a very in-depth review at Playlist of Roku's latest offering, the SoundBridge Radio. A quick count yields 4097 words of review text from Master Frakes. Yowza.
I'll try to summarize his thorough work into a bite sized chunk of text for today's go-go-go music aficionado (though, in all fairness, you'd be tethered with the device). It's $400. It won't play iTMS songs. It will play non-DRM music on network devices on the local network as well as streaming audio stations. I suppose I should also mention the AM/FM capabilities (who uses those?).
At that price point though, I'm not sure I'll be replacing my trusty Sony Dream Machine ($20, and only does the barbaric AM/FM radio).