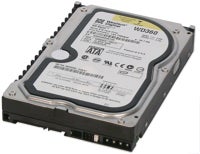 I haven't quite managed to conquer the fact light is both a particle and a wave, but I'm pretty familiar with the marketing trickery that redefined the gigabyte to 1,000,000,000 bytes (instead of the proper 1,073,741,824 bytes). While this might seem like a boring math lesson, listen up, because it probably affects you. This prestidigitation enabled hard drive makers to advertise their products as 80GB hard drives, when in fact, operating systems only recognized the capacity as 74.4GB. So if you've ever wondered where your "missing" gigabytes went, now you know: into hard drive makers' wallets.
Western Digital got slapped with a class action suit for this very reason, and the hard drive giant has opted to settle. Consumers who purchased a Western Digital hard drive between March 21, 2001 and February 15, 2006 may be eligible to snag themselves a free download of Dantz Retrospect Express. If you're among the afflicted, find all the info on the settlement at Western Digital's site (filing deadline is July 15). Another suit filed by the same plaintiffs is pending versus hard drive manufacturer Seagate.
Guess it's time to pop open my PC and check the label. Pretty sure I got me some software coming to me. Of course, the real question is: Will they mend their errant ways?
[via Gizmodo ]