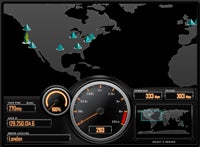 My friends and I do the Internet gaming thing on occasion, but one of them is cursed with bad network luck. In order to figure out which of us is the weak link in a chain, we'll often turn to sites that test your network speed. Previously, I'd been using Bandwidth Place's Speedtest, but I think I've got a new favorite in Speedtest.net.
Speedtest.net uses a slick Flash-based interface that gives you a visual idea of not only how fast your network connection is, but also how the tests are carried out. It uses the metaphor of a speedometer to register your transfers in both uploading and downloading, and lets you choose from a variety of servers around the world. Very cool. And handy for figuring out just how much of the speed you're shelling out for you're actually getting.
[via Oh Gizmo! ]
Note: When you purchase something after clicking links in our articles, we may earn a small commission. Read our affiliate link policy for more details.