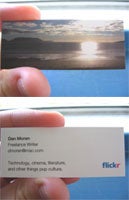 I've had a few business cards in my day, but all have been pretty staid; my name, a logo, some contact info. Sure, they're useful , but they're not necessarily eye-catching. Photoprinters have meanwhile become cheaper and more efficient, but what happens once you've printed out photos? They go in a book, or a box. What if we combine these two problems into one?
That's what Moo's doing with its MiniCards. They're tiny little cards (28mm x 70mm) that can fit a few lines of text on one side and a photo on the other. Best of all, they can integrate with your Flickr account, so you can print cards based directly on pictures from Flickr. I managed to snag a pack of 10 from their 10,000 pack promo (now sadly over), and the results are pretty cool, as you can see above. Use 'em as business cards, calling cards, gift tags—anything you desire!
You can make a pack of 100 for just $20 and shipping's free until October 15th.