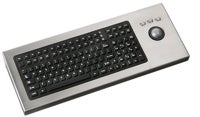 Not spending enough money on your keyboard? When I bought my new Apple keyboard a couple years back, I think I paid about $35 for it, and I still like it (though it's getting a bit grungy). Still, it's hardly the latest in high tech keyboardry .
For that you need to go to Stealth Computer. The company offers a variety of high end keyboarding solutions, including both panel-mounted and desktop options. The construction of these babies is solid—take the 2000-DT-TB (pitured above) for example: stainless steel casing, industrial silicone rubber keys, and a stainless steel optical trackball. It includes an unprecedented 24 function keys and can be ordered with PS/2 cables or a USB connector.
It only specifies Windows connectivity, though with a USB connection it ought to be Mac-compatible. Bear in mind that it's laid out for Windows usage, and as such features a Windows key. No command/apple key here.
Oh yeah, $1195. Or, if you opt for the 2000-DT model (foregoing the trackball for an integrated "3 position HULA Pointing Device"), you can shave $400 off the price to get a respectable $795.
[via GizmoWatch ]