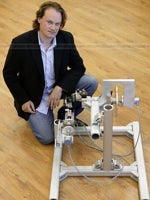 Let's get one thing straight: I'm not a science person. I can barely tell your quarks from your valence shells, but the claim from this Irish firm Steorn sounds fishy to me. They say they're able to produce free, constant and clean energy via "the interaction of magnetic fields."
My understanding is that the technology runs straight up against a brick wall known as the Principle of the Conservation of Energy, which states that energy can neither be created or destroyed, merely transformed. Of course, scientists will be the first to tell you that science is not absolute truth—Einstein's relativity theories, for example, contradicted much of what was believed from Newtonian physics.
Still, we've been down this road before with cold fusion. Steorn seems to be playing it full throttle, placing an ad in The Economist inviting prominent experimental physicists to come and test their methods, the results of which will be published for everyone to read, so stay tuned to Gadgetbox.
Clean, free energy certainly seems like too much to hope for. As with everything in life, somewhere there must be a catch. Plus, is it just me or does that guy really look like the scientist dude from Sneakers ?
[via Gizmowatch ]