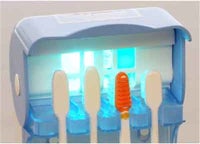 Sure, a $45 UV Toothbrush Sterilization device might seem like a good idea, but I offer you this compelling counter-argument: sterilization is for wimps . Your mouth already contains more bacteria than any other part of your body—another few germs will hardly hurt it. And should you really be concerned about introducing more nasties, just follow my time-honored tradition of gargling a shot of whiskey every night before bed. No mouth diseases here , boys.
Still, if you choose to forego Jim Beam for UV beams, then you can go the technological route and irradiate your toothbrush (with the possible side effect of turning it into a super toothbrush). The UV beams ought to kill every last living thing on your toothbrush, as well as giving it a nice golden tan. Better yet, this device has room for your entire family of four's brushes, meaning that you can all enjoy germ-freeness together (you heard me, Billy—your toothbrush will be sterilized and you'll like it , mister).
[via SCI FI Tech ]
Note: When you purchase something after clicking links in our articles, we may earn a small commission. Read our affiliate link policy for more details.