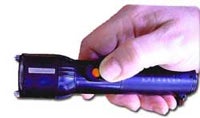 If that combination flash light/smoke detector that we showed off the other day didn't quite rattle your cage, perhaps you'd be interested in the latest in personal defense. The Stun Gun Mini Flashlight packs 200,000 volts into a diminutive package. Just don't hit the wrong button when you're playing that game of flashlight tag.
The KL-139 self-defense flashlight is powered on NiCad batteries, and comes with its own charger and a spare LED bulb; it takes four hours to charge, though no word on how long the battery lasts. It's made of high-quality ABS plastic, so just in case you wear out the charge with a couple of good shocks, you can always chuck it at your attacker.
This is one of those things that I can't have around the house. There's no way that I wouldn't accidentally fry myself or worse, the cat. Fortunately, $60 is just on the far side of what I'm willing to pay for a flashlight.
[via Red Ferret ]