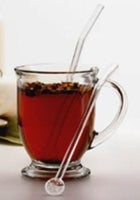 When it comes to hot beverages, my drink of choice is the mighty leaf known as tea. A drink upon which nations were founded . I prefer to use loose-leaf tea as opposed to teabags; the flavor is far superior, and my teas of choice are often so black that they're mistaken for coffee.
But one option has always eluded me: the ability to drink my hot beverage of choice from a straw . Why not, after all? Well, besides the fact that tea is best made with boiling water that will probably cause the plastic of most straws to dissolve. Ew. Wisdom Wands's Health Tea Wand is made of glass though, so it lets you sip your tea in peace. The bottom features a strainer that prevents you from sucking up those tea leaves, which you can leave for the fortune-telling. It's a clever idea, although the picture seems to suggest that you just dump your tea leaves into the cup, a procedure I wouldn't recommend, in case you'd like to give it a sip at some point.
For you coffee drinkers out there, there's also the Java Wand, which is similar but includes a miniature French press filter at the bottom. They do offer a good point, though, in suggesting that using a straw will help prevent teeth stains, a problem with both black tea and coffee. While both options go for $20, no alternative is offered for hot chocolate lovers—though, let's face it, who doesn't love sucking up those undissolved lumps of pure cocoa and sugar?
[via Popgadget ]