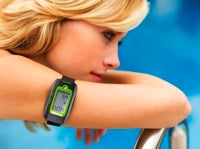 And now for a product that has absolutely no use for us darkness-bound Gadgetbox HQ resident's: MINOX's Suntimer will help determine how long you should be out, relaxing in the death rays that emit from that flaming yellow orb in the sky. If you start to exceed the recommended allowance of ultraviolet radiation, an alarm will go off. I'm guessing it doesn't sound like this "Oh my god , you're on fire! Get inside! Inside !"
You've gotta admit, it's still eerily similar to Oregon Scientific's Wireless Talking Barbecue Thermometer, right? It doesn't take much to go from your bakin' being done to your bacon being done, if you know what I mean? You don't? Do I have to expl—oh, you're toying with me. Cheers.
Anyway, should you wish to practice safe suntanning (not possible with my European mongrel heritage), you can pick up a Suntimer for €49* (~$65). That's cheaper than a nice watch—which, by the way, the Suntimer can double as.
* Pretty lady not included.
[via Uber-Review ]