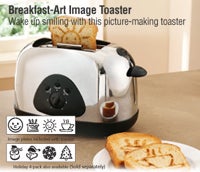 The only thing that disappoints me about this Breakfast Art Image Toaster from Brookstone is that I can't burn the faces of my enemies into my morning toast and then devour them. Instead, I have to content myself with eating a smiley face, a birthday cake, a coffee cup, or sunshine. Mmmm, sunshine .
You can also buy additional plates for other images, like a holiday pack that contains snowman, a snowflake, a Christmas Tree, and Santa Claus. Well, at least I can burn the face of one of my enemies.
It also has many of the features you'd expect from 21st century toasting technology: multiple settings, defrost option, removable crumb tray, et cetera. And they're just so darned enthusiastic about it:
This will be the best toaster you have ever owned!
Okay!
[via Gizmodo ]