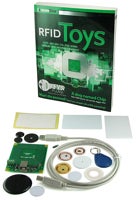 If you enjoy a bit of technological tinkering in your spare time and aren't totally terrified of the destruction of privacies that technology will eventually bring down upon our society, you might be interested in the RFID Experimentation Kit. While it's currently out of stock, there're more coming in at the end of March, so you'll want to reserve your copy now.
The kit comes with a USB RFID reader, a dozen different RFID chips, cards and keychains for embedding the chip, and even one tag suitable for implanting in yourself, though it's really recommended that you don't (no problem here). The extensive included book runs you through instructions for a bunch of different little projects you can do with your kit, like setting up an RFID doggy door (though presumably not including performing minor surgery on yourself or your cat, thankfully).
Running at $100, the kit is perfect for the geek in your life, though be warned: some amount of technological savvy is recommended. Windows is required, so Mac users will probably need to switch over to Boot Camp or Parallels, unfortunately.
[via Popgadget ]