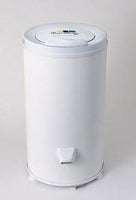 The biggest problem with our dryer is that it generates way too much heat for the room it inhabits. You step into the hallway, and it's like a sauna . I can't help thinking there must be an easier way.
The Spin Dryer might just be that easier way. Instead of your ordinary tumble dryer, it spins the clothes around really fast (3200 rotations per minute), draining much of the excess water in only two or three minutes. If you use it in conjunction with a tumble dryer, it can cut your drying time by thirty minutes or more, saving you a bundle in electric costs. It can also be used on its own, should you want to just air dry your damp clothes afterwards.
It can hold up to 12.2lbs of wet laundry, or 5 lbs of dry laundry, and it connects to any standard outlet. It'll run you $129.95; a mini countertop version costs $69.95, but only holds 2.2lbs of dry laundry.
[via Shiny Shiny ]