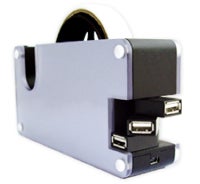 Honestly, I'm sure I've seen stranger places for a USB port than on a tape dispenser. It's just that none of them are really coming to mind right now. And I'm disappointed—to the point of despair!—that the USB ports don't somehow enhance my tape-dispensing experience.
It's essentially just a USB hub though, what is cool is that the three downstream ports swivel 180°, making it easier to accommodate devices with non-standard plugs. It's fully USB 2.0 compatible, works with Mac and Windows, and is available in both masking tape and Scotch tape sizes.
The one downside? The manufacturer, EarthTrek, deals in volume and custom branding. So it's great if I were, say, to get a hundred Gadgetbox USB tape dispensers made, but not so good if you're talking about just for yourself.
[via Ubergizmo ]