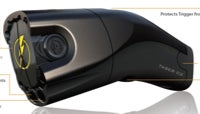 Slick colors and new features aren't restricted to non-potentially-lethal gadgets: introducing the Taser C2. With its new ergonomic grip and choice of four color options, it's the swankest in personal defense. The C2 can stop a threat from up to 15 feet away, jolting them with an unpleasant amount of electricity for 30 seconds, so you can run the heck away. Though lest you plan on just tasering that guy that's always annoying you, be advised that the C2 will eject "Anti-Felon" tags that identify the Taser used by serial number.
Each lithium power pack holds enough for 50 shots; you can also use the C2 as a contact stun device for close-range defense, and it also makes a great barbecue tool. There's also an optional laser sight for targeting, or backup use as a PowerPoint presentation tool, and an LED light so you can find your keys. That's convergence for you.
At a cost of just $349, why would you need to carry anything else?
[via Gearlog ]