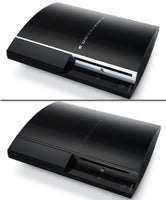 Our somewhat abridge coverage of the Tokyo Game Show continues with this news from Sony. Not only will the low-end version of PS3 now include HDMI for full digital output, but Sony's dropping the price of that version of their console. The catch? It's only in Japan.
The 20GB model of the PS3 will now sell for ¥49,980, a roughly 20% drop from the previous retail price. There's no news yet about whether or not we might expect to see similar price drops in other markets, but I wouldn't hold your breath. This is Sony we're talking about, after all.
The inclusion of HDMI on the PS3 model we had dubbed the " LameStation " will please many, as the lack was widely thought to be that model's biggest flaw. After all, full HD has been touted as a major bullet point of the PS3. Still, with only 400,000 PS3s making their way to the US, you're going to have line up early no matter which model you're shooting for.