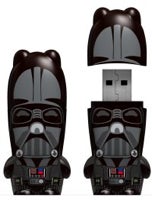 I finally broke down and bought a flash drive, which of course means that now they release cool flash drives. Then again, "cool" might be a little strong for this bizarre limited edition Star Wars flash drive in the shape of Darth Vader. With bear ears. The hell? No idea.
According to Gizmodo, a run of 3500 will be appearing tomorrow. The line is officially sanctioned by Uncle George himself and will manifest in 1GB and 4GB versions, running for $80 and $170 respectively (somewhat on the pricey side, admittedly; the generic no-name brand I bought cost $15 for 1GB). Then again, if it was a Chewbacca flash drive, I'd be obligated to buy one.
On the downside, these drives may or may not cause your computer to start wheezing asthmatically upon insertion.