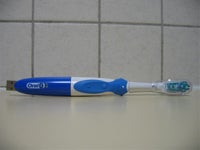 Sure, the electric toothbrush is a great meshing of technology and health, but come on, they've been around for ages now. You can get one in the shop for under $10. People probably buy them just to clean things nowadays. It's time for the next step in the toothbrush evolution: wireless .
Well, this version isn't exactly wireless. Or, um, useful , but it's a neat hack. These guys put a USB Bluetooth adapter inside an Oral B Cross Action electric toothbrush, thus yielding the world's first Bluetoothbrush. What does it do? Well, at the moment it makes brushing your teeth more complicated by requiring you to keep your toothbrush plugged into a USB port for power, though it also continues to work as a Bluetooth adapter. So if you need to pair your phone with your laptop and brush your teeth, they've totally got you covered.
It'll make a perfect companion for my Wi-Fi enabled toaster (please please please!).
[via Gizmodo ]