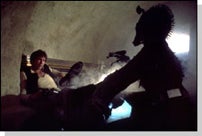 Okay, this isn't really a gadget, but come on, we're all geeks here. So when I tell you that the original Star Wars movies are being released this year on September 12th, I know you'll be excited. What? Already released?
No, I'm talking the originals .
That's right. The theatrical releases of 1977, 1980, and 1983, without any of the meddling of creator George Lucas, seen in their original glory. These are my favorite movies of all time, and I've refused to buy the DVDs that were issued a few years ago, because they were just the so-called "special editions." I went so far as to acquire Laserdiscs of the original, un-edited trilogy, and a LD player, so that I could one day make my own DVDs of the original trilogy.
Well, turns out that was somewhat of a waste. Oh, well, I'll just be happy to finally complete my DVD collection; the lack of Star Wars has been like a gaping hole in my poor filmlover's soul.
The limited edition DVDs will be available only from September 12th to December 31st of this year, so get ready to act fast.