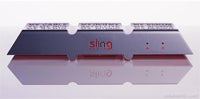 If you haven't heard of the Slingbox, well, allow me to enlighten you. Essentially it's a device—a box , if you will—you hook up to your TV and an internet connection; once so attached, it sends— slings , some might say—those programs across the net to any of your computers. Very cool.
Though the Slingbox has been available to US resident for some time now, it's just made its debut in the United Kingdom. And, as Scott Matthewman over at The Stage muses, what does this mean for British residents? TV works somewhat differently in the UK; when you buy a set, you also have to buy a license for it; that license is what funds the BBC, allowing it to provide commercial-free content. Matthewman wonders if the Slingbox, ethically, will require additional licenses.
In addition, writer Neil Gaiman has long been a fan of the Slingbox, but he too wonders what this means for him, a British ex-pat living in the US:
The Slingbox has been released in the UK. So if I got a UK Slingbox and plugged it into say a relative's broadband and TV box, could I legally watch UK TV anywhere in the world? Could I if I bought a separate TV license? […] And then once I'd pondered that, I started fantasising about a warehouse filled with hard disks and Slingboxes and connections to ALL THE TV IN THE WORLD… And, of course, in reality I don't watch much TV. But I love the idea of being able to do it if I want to…
The point about watching UK TV is a good one. I lived in the UK for a while, and became a big fan of many British shows, some of which I legitimately own on region 2 DVDs that I can't legitimately watch on most of my equipment, to my eternal annoyance. But for new shows, like the latest series of
Doctor Who
, could I do what Neil is suggesting and not have to wait for British TV to appear on American shores? Would that be more, less, or around the same ethicality as getting the episodes off BitTorrent?