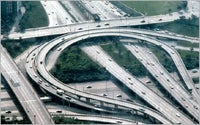 Engineering blog CR4 is kicking off a week long celebration of the 50th anniversary of the interstate highway system. June 29th will mark a half century since the President Eisenhower signed the bill that would become one of our nation's most unique characteristics.
Maybe you don't think about the interstate highway system that much, but you know what? You should. It's one of those things that Americans take for granted, but it's impossible to overstate the importance of being able to move good quickly and reliably between population centers; there is some suggestion that building a sustainable road system might be one of the major keys to industrialization.
For those of you of a more trivial bent, here's the usual "how big is the interstate highway system when compared with, you know, stuff ":
In 2006, this network of roads includes 46,000 miles of highway; 55,000 bridges; 82 tunnels, and 14,000 interchanges. According to the Federal Highway Administration (FHA), excavation for the interstate system has moved enough material to bury the State of Connecticut knee-deep in dirt. The amount of Portland cement could build more than 80 Hoover dams, or lay six sidewalks to the moon. The lumber used would consume all of the trees in 500 square miles of forest. The structural steel could build 170 skyscrapers the size of the Empire State Building, and meet nearly half of the annual requirements of the American auto industry. Lengthwise and in aggregate, the bridges of the Eisenhower Interstate Highway System would span the Rio Grande.
Glad they got the moon in there. Nice to see it. My favorite trivia about the interstate highway system? The reason that most cities have beltways around them is to act as firebreaks in the chance that the city is nuked. Awesome.
[via Slashdot ]